SMC Products at Fabtech Expo
SMC Products at Fabtech Expo

SMC Corporation of America exhibits each year at FABTECH, North America's largest metal forming, fabricating, welding and finishing event. To register visit: www.fabtechexpo.com
---

2 Port Dust Collector, Pulse Valve
Dust collector reverse pulse jet valves are the filter cleaning components for baghouses (dust collection systems) for preventing dust explosions by removing particulates from the air.  The JSXFA dust collector valve is engineered with a robust elastomer diaphragm that requires no spring to shift, enhancing its service life to 10 million plus cycles while producing faster response times and energy savings.
The JSXFA diaphragm valve will open and close rapidly to create a short, intense blast of air with sonic shock wave to dislodge accumulated dust from bag filters and cartridge filters without disrupting regular operations.
The JSXFA can be actuated by either solenoid or air operated pilot valves, available with enclosures.

2 Port Direct Solenoid Valve
The VX2 series is 2 port direct solenoid valve for general purpose air, medium vacuum and water. Available body materials include resin, aluminum, brass or stainless steel with port size up to 1/2 inch. Resin body is offered with one touch fitting to reduce installation time. It is also available as a manifold to reduce piping.

4 and 5 Port Solenoid Valves
SMC has improved product performance and reliability with the redesigned SY series valve. The SY3000 and SY5000 have the same valve width as their predecessors, but the flow has been increased by up to 80%, allowing the valve size to be reduced. A built-in strainer in the pilot valve prevents trouble caused by foreign matter. By using H-NBR seal material for the main valve and seals, Ozone resistance has been improved. Side, top and bottom port/pipe directions are available to allow flexible installation. The SY is available in body ported or base mounted styles, and can be used individually or manifold mounted.
*** We are currently experiencing long lead times for some SY products. Please consult with SMC Representative for alternatives ***
Pneumatic Clamp Cylinders

CK-Z Clamp Cylinders
The CK1-Z series is a clamp cylinder available in two styles of clevis widths (16.5mm, 19.5mm).  It is a non-lube, compact, lightweight cylinder with a built-in speed controller.  The CK1-Z is available in 3 bore sizes with stroke lengths up to 150mm.  Options include easy speed adjustments, rod attachments and auto switch capabilities.

WRF Frame Clamp Cylinders
The WRF100 with its high clamping force makes it suitable for a broad range of applications.  Standardized T-type and S-type arms allows the selection to meet certain specifications or applications.  Also, has an optional spatter protective cover with easy assembly even after the cylinder is installed.

CKZP Shot Pin Cylinder
Shot pin cylinder series CKZP is designed for both high precision and positioning repeatability. Also known as a locating pin cylinder, the configurations for the CKZP include bore sizes equivalent to 57mm and 71mm with strokes of either 25mm or 50mm. The proximity switch sensor and port thread type can also be selected. Widely used in automotive applications, the mounting is based on NAAMS standard (71mm bore)
Pneumatic Actuators and Grippers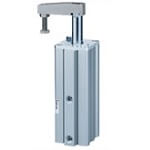 MK2T Rotary Clamp Cylinders
Combining weld spatter resistance, compact cylinder size and rotational capability, the MK2T-XC88/XC89/XC91 cylinder is designed for heavy duty clamping applications, with an available integrated arm that swings out of the way when the cylinder is extended. 90deg. clockwise or counter clockwise rotation is available, and clamping arms with adjustment screw are standard options.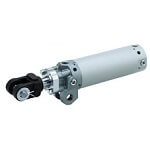 CKG1 Clamp Cylinders
The CKG1-XC88/XC89/XC91 series is a clamp cylinder available in two styles of clevis widths (16.5mm, 19.5mm). It is a non-lube, compact, lightweight cylinder with a built-in speed controller. The CKG1 is available in 3 bore sizes with stroke lengths up to 150mm. Options include easy speed adjustments, rod attachments and auto-switch capabilities.
Product with ID: "138068" not found.

ISE70G, Digital High Pressure Sensor, 3 Screen 2 Output, IP67 with IO Link
The ISE70G pressure sensors provide continuous quantitative values, as well as switched digital outputs when pressure set points are met.  Compatible fluids include any non-corrosive liquid or gas.  5 pressure ranges are offered, from 1.0 to 16.0 MPa.  This sensor is also IO-Link compatible.  Sensor information, such as identity, functional state, cable connection, and current or switch values can be set or monitored remotely through an IO-Link master, and connected to a fieldbus network.  The ISE70G series is designed for abusive environments that may also include splashed coolant, lubricants, or grime.  Electronics are packaged in a metal housing, while the piping connection is a stout lug with female threads, which together protect the sensor against accidental collisions with other objects in the area.  A smooth display face with membrane type buttons avoids contamination from grit and sticky residue that could clog or jam raised rubber buttons.  The display is angled and can rotate 336 degrees, to permit easy reading when indirectly mounted.  The main screen shows instantaneous values in red or green, while the sub screen settings appear in orange.  Switch indicators will also light when set points are reached.

PSE560, Remote Analog Pressure Sensor, General Purpose, IP65
PSE560 and 564 are remote pressure sensors with an analog V or mA signal output.  PSE56* sensors measure pressure of any liquid or gas non-corrosive to 316L stainless steel.  560 is for a standard pneumatic system's pressure range, while the 564 model is for low pressure.  An accuracy of ±1% of the full scale rated pressure range is suitable for general purpose applications.  Includes a fixed cable with field wired connector option.  PSE560 and PSE564 are UL/CSA, CE and RoHS compliant, with IP65 enclosure ratings.

PSE570, Remote Analog Pressure Sensor, Enhanced, IP65
PSE570 remote pressure sensors offer positive pressure ranges from 500 kPa to 10 MPa, with increased proof pressures and a higher withstand voltage for improved durability in unpredictable conditions.  A nickel-plated C3604 brass port and ceramic sensor impart compatibility with a wide range of liquids and gases.  An analog V or mA signal ouput is transmitted over a cable with an M12 connector.  Accuracy is ±1% full scale for pressure below 1 MPa and ±2.5% for higher ranges. PSE570 sensors are CE and RoHS compliant, with an IP65 enclosure rating.
Product with ID: "161520" not found.

PF3W7, Digital Flow Switch for Water, 3-Color Display, Integrated Display
PF3W is a digital flow sensor that constantly monitors water or coolant flow.  PF3W refreshes the design and operating performance of the legacy PF2W model.  The body is up to 40% smaller in volume, and requires shorter straight piping for improved installation flexibility.  The upgraded 2-screen, 3-color numerical display rotates in both CW and CCW directions, offering improved visibility in a range of orientations.  Two outputs are available, including two switch signals, or a switch and analog signal.  Options include a mounting bracket, flow adjustment valve and temperature sensor to monitor flow and temperature simultaneously.  PF3W is grease-free, IP65 rated, and C-UL-US, CE and RoHS compliant.
Product with ID: "54688" not found.
Product with ID: "54746" not found.
Product with ID: "87295" not found.
Tubing/Fittings/Speed(Flow)Control Equipment

Wireless SI Unit
The EX600 serial interface offers a full suite of diagnostics and programmable parameters to meet the most stringent requirements. The EX600 offers excellent flexibility including digital input, digital output and analog input unit options. With the use of D-sub output blocks, a maximum of 9 remote D-sub manifolds can be attached to one EX600 communication module. This serial interface is compatible with series SV1000/2000/3000, VQC1000/2000/4000, S0700 and the new SY series valves. Available protocols include  Ethernet/IP™, PROFINET.  The EX600 wireless cannot be used in countries where wireless is not supported.  Refer to the catalog for details of countries where wireless is supported.

Main Line Filters
With coalescing filtration, SMC's upstream main line filters remove contaminants as fine as 0.1 microns. Some filters can remove aerosol state oil mist, up to 0.01 microns for precise, clean, dry air for the most efficient use in pneumatic systems.
Applications Powered by SMC