SMC Corporation of America's Jon Jensen Presents A Compressed Air Management Master Class
SMC Corporation of America's Jon Jensen Presents A Compressed Air Management Master Class
Thursday, August 10, 2023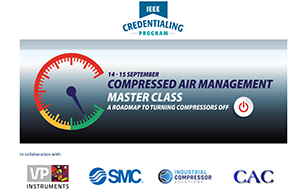 SMC's Jon Jensen, Energy Conservation Group Manager, will be presenting at the Compressed Air Management Master Class – A Roadmap to Turning Compressors Off at the Hyatt House Charlotte Airport on September 14 and 15.
This two-day Master Class will focus on the frequently overlooked energy consumption from a facility's demand for compressed air point of view. Learn how a small air leak from a worn seal on a tube connector that leaks at 1 CFM can cost a facility $175 a year added to its energy bill. Multiply this with the number of connections per machine, multiplied by the number of machines per facility.
Visualize that 1 CFM equals the flow rate of a regular party size balloon inflating to full in 1 minute.
Jon will present the importance of taking a system approach to accurately evaluate a machine's real demand for compressed air and to mitigate the artificial demand for air and thus reduce waste. He will also introduce SMC's latest energy saving product, the Air Management System or AMS, the solution to demand-based air consumption.
The AMS, through a combination of sensors, will supply air to the machine at full flow when operating and will smartly switch to ECO/Stand-by mode when idle and then switch back to operating mode when air is again demanded. This saves energy costs while reducing CO2 emissions.
Jon will share the stage with industry experts, Paul Edwards (Compressed Air Consultants), Josh Wamser (Industrial Compressor Solutions), and Menno Verbeek (VPInstruments), who all have the passion for turning off the compressor and reduce energy consumption.
The cost to attend the 2-day Master Class is $535 at the Hyatt House Charlotte Airport, 4920 South Tryon Street Charlotte, NC 28217.
Learn more at: https://www.vpinstruments.com/event/compressed-air-management-master-class/
About SMC Corporation of America
SMC Corporation of America, a subsidiary of SMC Corporation in Japan headquartered in Noblesville, IN, is a comprehensive manufacturer of components for the Automation, Controls, and Process industries. With technical centers in Japan, the US, Europe, and China, our vision to be the global standard for sustainable automation is realized through partnering with our customers to discover opportunities for energy and resource savings by reducing overall compressed air and electrical consumption.
Visit www.smcusa.com for more information about SMC Corporation of America.